Thank you for your interest in my new book: Bad Advisors: How to Identify Them; How to Avoid Them. This is the dirty little secret's book you've been looking for to determine if you are working with the right advisors.
To purchase the book, please click on the following link: https://thewpi.org/?a=CAT:24.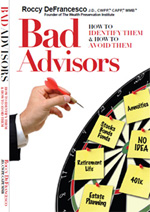 In addition to the general public, why do I recommend all advisors read this book? Because it will help them examine how they are giving advice and, if needed, it will help them refocus to make sure they are always giving advice that is in their client's best interest.
The book is an insider's look at advisors that will help consumers:
• Identify financial planners who are forbidden by theirbroker dealers from giving you the "best" advice!
• Identify insurance agents who are forbidden from selling you the "best" products available in the marketplace!
• Understand why fee-only advisors have a conflict of interest that prevents them from giving you objective advice!
• Identify various sales systems designed to help advisors sell products and services that are NOT in your best interest!
• Identify classic errors attorneys make that can cost you and your heirs hundreds of thousands of dollars!
• Learn about the bonuses and sales incentives many advisors are offered that often taint their advice!
• Understand why most CPAs, EAs and accountants do NOT provide proactive advice to help you save on your taxes!
Roccy DeFranceso, JD, CWPP, CAPP, CMP